Lawn Care and Landscape Maintenance
Linton's is the areas' premier lawn and landscape maintenance professionals. We offer an array of services that may be performed bi-weekly, weekly, monthly, or on an "as needed" basis.  We not only care for your lawn but we also professionally care for your landscape plants, trees and shrubs.  Who else is better qualified than Linton's? No one!
"Leave the details to us"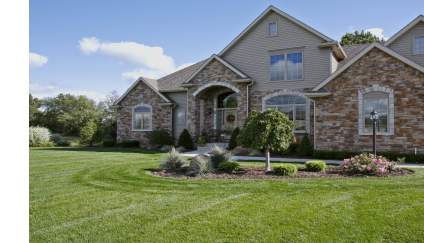 We offer our services all year long, and also provide snow removal and salting services, along with outdoor Christmas light installation and removal during the winter months.  Both home and business owners depend upon the pros at Linton's to keep their property looking pristine all year long!  We offer fertilization, weed control applications, as well as pest control to keep your lawn healthy and looking great, all performed by a company which holds a state applicators license.
Why trust your lawn and landscape to other companies who don't grow or install lawns, trees, and shrubs?  Linton's is the only firm in the Michiana area who knows how to grow and install lawns and landscapes, so who could possibly be better than us?  Our services don't stop there, we also offer spring and fall cleanups, lawn dethatching, overseeding, as well as annual flower bed plantings. During the summer we provide deck, patio, and driveway power washing, turf renovation, pruning, and trimming for both trees and shrubs.  You can put your trust in the pros at Linton's to maintain your home and business property year-round, and have confidence that it will look great!  In the fall we offer both leaf removal and gutter cleaning.
Call or email us to schedule a free lawn and landscape analysis, and we will customize a proposal that is designed specifically for your property.
Mowing
Spring cleanup
Fall cleanup
Weed control
Disease control
Insect control
Flower planting
Bulb planting
Pruning
Trimming
Weeding
Gutter cleaning
Line trimming
Power edging
Lawn dethatching
Lawn aeration
Turf renovation
Over-seeding existing lawns
Snowplowing
Salting sidewalks and drives
Year-round service
Christmas light installation
Critter control
Pond maintenance
Landscape renovation