Latest News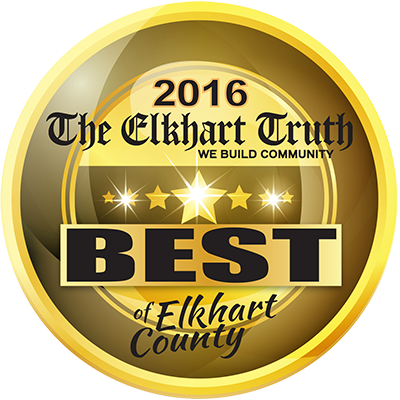 Thank YOU  for continuing to vote Linton's Enchanted Gardens as the Best!!!  The difference between ordinary and extraordinary is in the "extra".  I believe that it is this "extra" that has been recognized by both our guests and clients, and this is why they once again have voted us as "The Best of Elkhart".  At Linton's, it is truly a team effort, and each team member strives to take that "extra" step to give each and every guest a pleasant and memorable experience when they walk into our facility or hire us to perform services for their home or business.  I am truly blessed to have over 100 highly-skilled and dedicated team members that share my vision to exceed our guests expectations. The Linton team takes great pride in their work, and it shows by them voting us as their Favorite Place to Work!! I am both
honored and humbled by this recognition!!!

This year we celebrate over 34 years of service to the Michiana area.  Each and every year we continue to raise our own bar, and continue to grow and introduce even more rare and
unusual plants, create the most fabulous floral arrangements, offer unique gifts and interior decor, as well as create and maintain the most beautiful yards and properties throughout Michiana!  I continue to look forward to the future, for I know that the next years will even be better!

Mark B. Linton
---

Linton's Enchanted Gardens, in Elkhart, was featured in an article in the January 2011 "Today's Garden Center" Magazine as being selected as one of the "Revolutionary Garden Centers" in the entire United States.
The criteria for the selection process was based upon Garden Centers who "think outside the box" and thus create a "Revolutionary Garden Center".
Linton's Enchanted Gardens was awarded this title based upon many different accomplishments. Thus creating a "destination home and Garden Centre", artnering with the local visitors bureau and attracting over 100 tour buses each year.
The various themed special events that the firm promotes throughout the seasons, meticulously maintained themed and display gardens, themed architectural structures throughout the facility, ADA accessibility, various promotions, such as the firm's Flower of the Month Club, the Green Thumb Savings Club, and the Great Gardeners Rewards program, the introduction of over 300 new plants annually grown at their 40 acre nursery, and their free seminars, just to name a few.
The award was presented to Mark Linton/President, while in Atlanta, GA, and included a three day seminar which allowed the 100 Revolutionary Garden Centre owners to participate in workshops and network with the others as well as exchange ideas.
According to Mark Linton: "We are both thrilled and honored to be recognized for our team's hard work and accomplishments." Linton's Enchanted Gardens is in their 29th year of business and operations include a home and Garden Centre, a Floral Shoppe, Interior Decor and Design, a Nursery located in Bristol, IN, a landscape architecture design and installation firm, as well as a complete Lawn and Landscape Maintenance company.
The firm employs over 100 employees and was selected and awarded last year by the Indiana Association of Nurserymen INLA as Indiana's best new Home and Garden Centre for the firm's new location and 9 acre facility on County Road 17.
---

By Kelly Gates
If the horticulture industry had an amusement park, its name would be "Linton's Enchanted Gardens." The Elkhart, IN-based home and garden center is every bit an adventure, boasting nine acres of creatively-themed gardens and imaginative displays, like the 15 ft. X 12 ft. silver spaceship that attracts customers to the company's UFOs- "Unusual Flowering Objects."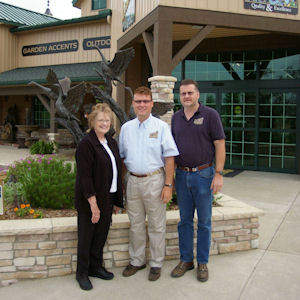 According to founder Mark B. Linton, the business is best known for these UFOs, particularly the 300-plus new plant introductions grown and sold there each year. "We specialize in rare and unusual plants, offering around 200 new perennials and 100 new varieties of trees, ornamental grasses, flowering shrubs and conifers annually," he said. "People come to see what's new, but they also come for the experience."
There is certainly a lot to take in a Linton's Enchanted Gardens. Anyone in search of Japanese Maples can find more than 50 different varieties in a Japanese-themed garden which features a Japanese tea house, Japanese bridge and arbor.
An assortment of perennials and flowering shrubs can be found by the Victorian House. Sedums, cactus and yuccas are located by the Southwest Gardens which are accompanied by an old-fashioned mine shaft and faux ore cart.
Like visitors to Disneyland, Linton's guest are handed detailed maps upon arrival, guiding them to each part of the development. Some go straight to the Lighthouse Gardens where there is an abundance of ornamental grasses displayed next to a pond and a floating fountain that lights up at night.
Other themed gardens include the Dutch Windmill, the Pixie House, the 1800s Grist Mill as well as a Train Depot and old water tower.
Families are always welcomed at Linton's Enchanted Gardens. They created "The Kids Korner" which features a tree house and fort, both perched on top of a 200 year old hollowed-out tree trunk.
"Once inside, the kids can climb up through the tree and enter the clubhouse through a trap door, walk out onto a balcony, talk through a talk tube and then come back down a spiral turbo slide to a swing at the base of the tree, said Linton. "At our The Petting Zoo, we have all things miniature, like a miniature horse, a miniature donkey, alpaca, miniature pigs, pygmy goats, baby doll sheep and miniature rabbits."
There is also an onsite bird aviary with approximately 50 exotic birds and a one-acre pond stocked with rare Japanese Butterfly Koi. Of course, the children's experience wouldn't be complete without animal food vending machines. Each handful of food only costs a quarter and even the fish can be fed.
Every inch of the grounds and gardens are maintained daily by master gardeners and the firm's own landscape and lawn maintenance crews. They tend to the main entrance - an airy two-story space filled with full-sized trees, lush tropicals, landscape lighting and waterfalls.
They also take care of the garden center's main shopping/display areas, all of which are contained inside a large courtyard with winding paths and an overhead facade that mimics a small village.
"We are probably the only garden centre that has hired a theming company to create this unique look," said Mark.
The floral and interior decor shoppe are as appealing as the rest of the property. Virtually any type of custom floral, bouquet or arrangement can be bought or ordered there. Each one is made using fresh flowers flown in daily from all over the world.
The interior decor and gift shoppe contains everything from handmade jewelry, Vera Bradley handbags and fountains to wind chimes, candles, accent furniture and wall art, along with an assortment of wonderful chocolates.
"During the months of November and December, the shoppe completely switches over to a Winter Wonderland," noted Linton. "We carry precut, live and artificial trees as well as a large selection of wreaths, garland, poinsettias, holiday decor and thousands of ornaments."
Along with its long list of plant material, themed departments and unique gift items, Linton's Enchanted Gardens also hosts a number of imaginative events. At a yearly "Pirate Adventure," a professional actor dressed in pirate attire greets guests, handing each child a pirates hat and an eye patch. Adults receive a treasure map with directions to specially priced plants with gold flowers, leaves or needles.
Customers who buy at least one item during this special event are given a key that may - or may not -unlock a treasure chest filled with more than $1,000 of "loot".
"We have at least one event like this per month," said Linton. "We also hold weekly seminars throughout the winter and early spring months in our heated glass conservatory that is filled with lush tropical plants and flowers."
The springtime hydrangea seminar alone attract so many people that the garden center usually has to split it into two classes of 80 guests. An ergonomic gardening seminar is highly popular amongst senior citizens who want to learn how to tend to their landscapes and gardens without putting unnecessary strain on their bodies. A chiropractor and a physical therapist are brought in to offer their expertise during this lesson.
According to Linton, it's not enough for the company to simply invite people to classes. Consider the evening dedicated to bridal floral arranging. Linton's Enchanted Gardens does everything but hire a priest for the sentimental seminar. "We have our staff dress in formal gowns and tuxedos and we have someone dressed in a wedding gown as well, so our guests may see a wedding party model the flowers," he told Country Folks Grower. "There's even live organ music, just to set the atmosphere."
It takes a lot of time, energy and creativity to come up with so many activities, but the efforts have not gone unnoticed. Last winter, the Indiana Association of Nurserymen named Linton's Enchanted Gardens the "best new home and garden center in the state of Indiana."
Mark celebrated the award with his mother Ruth and brother Kirk, both of whom have been by his side since the business was founded over 28 years ago - Ruth is a floral designer while Kirk is the firm's general manager.
Together, the trio oversees everything at the main retail site as well as their 40-acre nursery operation located several miles away. The nursery division supplies Linton's Enchanted Gardens, as well as local landscape contractors, and other garden centers.
The only thing missing is a Garden Cafe, which the Linton's plan to add to the property in the near future. Space has already been allocated for the new cafe and the building addition design has been approved by the local building department.
"We're just waiting for the right time," said Linton. "The cafe will complete our vision... for now. I'm excited for the future, for our best years are to come!"